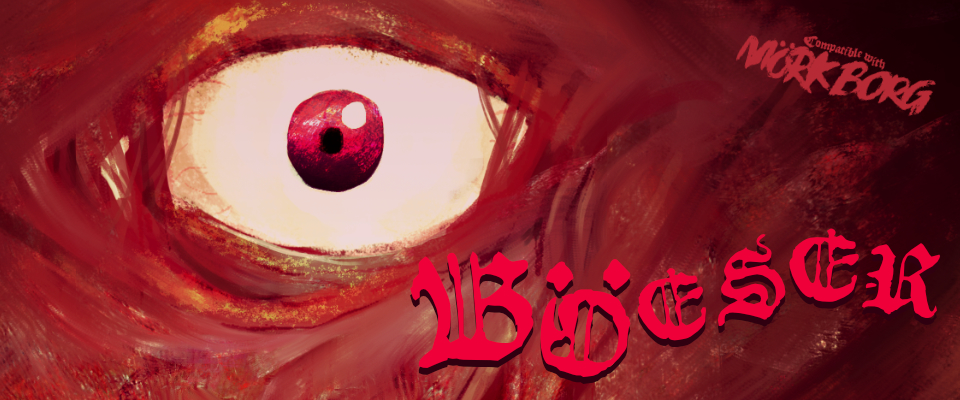 BÖESER
A downloadable fleshcrawl
Get this fleshcrawl and 3 more for $12.00 USD
View bundle
Children keep disappearing in the forest. But no one dares to visit the abandoned ruin, which juts out of a clearing like a rotten tooth. Whoever crosses the threshold is confronted with a force that scares even the Inquisition. Everything is alive. Soon you'll find out that the child thief Tergol has taken up residence here, and his experiments of alchemy and flesh produce abnormal monstrosities.

BÖESER is a dungeon for the Mörk Borg TTRPG. The digital zine contains:
digital zine with 32 pages of macabre adventure (b/w with 14 colored pages).
15 rooms to explore - layout in the classic style of Rotblack Sludge
a new class (Flesh Alchemist - illustrated by Strega van den Berg)
alternative boss monsters (Omnicle & Scar Golem - illustrated by Strega van den Berg)
original illustrations alongside the obligatory dead people art
random encounters, bizarre creatures, and strange places
You also get a conversion of the adventure for the alea atra rpg system by Florian Kalenda (rules available in german). alea atra is a lightweight narrative system for experiencing traditional role-playing adventures in short sessions.
This is a follow-up adventure to Den of Disarray, but can be played as a standalone module. This adventure is the first in a series about the Children of Chaos.
Content Note: This scenario contains gore, body horror, and other content that may be disturbing for players.
If you need a free copy of the game, either for a review or because you can't afford it, please contact by email at sushiundmolch[at]gmail.com and I'll send you one.

---
Below is some free content from the zine, enjoy!

---
Do not use this content for racist, sexist, homophobic, transphobic, or discriminatory content of any kind.
"BÖESER" is an independent production by Philipp Teich and is not affiliated with Ockult Örtmästare Games or Stockholm Kartell. It is published under the MÖRK BORG Third Party License.
MÖRK BORG is copyright Ockult Örtmästare Games and Stockholm Kartell.
Purchase
Get this fleshcrawl and 3 more for $12.00 USD
View bundle
In order to download this fleshcrawl you must purchase it at or above the minimum price of $4.39 USD. You will get access to the following files:
BOESER_singles_1.1.pdf
42 MB
BOESER_spreads_1.1.pdf
42 MB
BÖESER_printer friendly_1.1.pdf
15 MB
BÖESER_alea atra_itch.pdf
60 kB